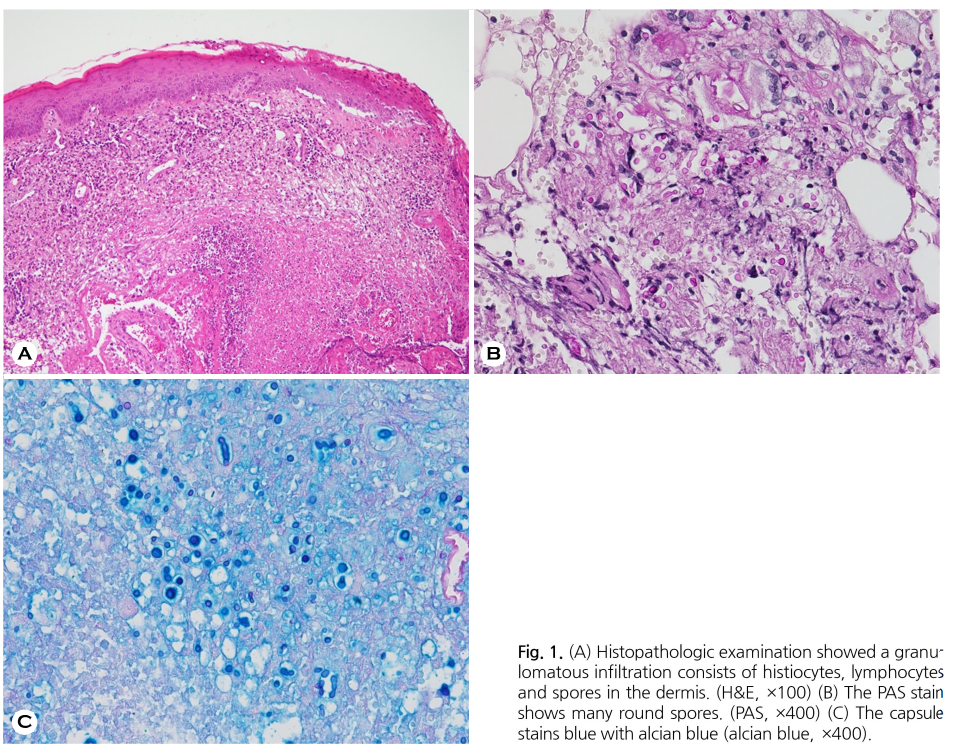 Cryptococcosis is a systemic fungal disease caused by Cryptococcus species including Cryptococcus neoformans. C. neoformans is found in the stool of pigeons and in soil contaminated by them. It enters the body through the lungs and commonly spreads to the brain1. Primary cutaneous cryptococcosis is a very rare clinical entity, with no systemic but skin symptoms.
The histopathological staining of the spores is red with the periodic acid Schiff reaction. The capsule does not stain with hematoxylin and eosin or the PAS reaction, but due to its acid mucopolysaccharides, it stains blue with alcian blue, purple with methylene blue, and red with mucicarmine2. In the dermis, granulomatous infiltration could be detected consisting of histiocytes, lymphocytes, and spores (Fig. 1A). Several round spores stain with PAS (Fig. 1B). The capsule stains blue with alcian blue (Fig. 1C).
To diagnose primary cutaneous cryptococcosis, the lesion must be confined to the skin and no systemic invasion should occur for at least 4 weeks after the Cryptococcus species is confirmed3. Histopathological analysis, such as PAS and Alcian blue staining, is a successful method for identifying fungal spores and capsules.