Primary syphilis is a sexually transmitted disease caused by the spirochete bacterium Treponema pallidum. Humans are the only natural hosts, and transmission occurs through sexual contact. Most disease manifestations are cutaneous, making it of great interest and importance to dermatologists. In primary syphilis, the lesion appears at the initial inoculation site, typically in the genital region1. However, it can have an atypical presentation, especially at extragenital locations2.
A 22-year-old male presented with a 2 cm-sized solitary erythematous erosive nodule in the suprapubic area present for approximately 1 week (Fig. 1). The asymptomatic lesion gradually increased in size and developed into an ulcer. He had no systemic illness, past medical history, pervious similar skin lesions, other mucocutaneous lesions, lymphadenopathy, and other symptoms including neurological symptoms.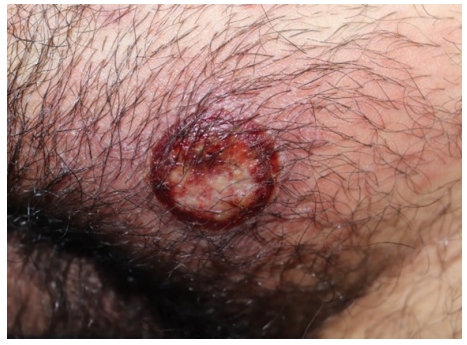 A punch biopsy of the nodule was performed. The specimen showed a diffuse dermal infiltration consisting lymphocytes, plasma cells, and abundant neutrophils (Fig. 2A, 2B). Vascular endothelial cell swellings were numerous. Upon immuno- histochemical analysis using the Warthin-Starry stain, scattered spirochete-like organisms were observed (Fig. 2C). Serologic test for automated rapid plasma reagin (RPR) was positive at 56.5 RU, and a diagnosis of syphilis was rendered. At the next visit, further laboratory studies were ordered, showing results of Treponema pallidum latex agglutination (TPLA) level of 290.70 TU and positive fluorescent treponemal antibody absorption (FTA-ABS) IgM and IgG. The patient was treated with 2.4 million units of benzathine penicillin intramuscularly. Three months later, the RPR and TPLA levels had decreased to 0.3 RU and 67.28 TU, respectively.

Primary syphilis is the first stage of syphilis and is char- acterized by the appearance of one or more chancres. The lesion typically presents as a dusky red macule that evolves into a papule or ulcer. At the inoculation site, the papule develops after an incubation period of 10~90 days.
Extragenital chancres occur mostly on the mouth, lips, and anus1,2, but they can also be seen at any mucocutaneous site, with an estimated incidence ranging from 2% to 31%2,3. The clinical manifestations of extragenital syphilis can be quite variable but are frequently painful and vary in size, shape, morphology, and color3,4. Mucous patches with white-to-yellow erosions on the tongue and oral cavity can be present as extragenital chancres.
Our initial clinical suspicion was pyogenic granuloma, cuta- neous tuberculosis, and pyoderma gangrenosum although histopathology led to the diagnosis of syphilis. To the best of our knowledge, there has been no report of extragenital primary syphilis resembling pyogenic granuloma. The findings suggest that a solitary ulcerated erythematous bump with moist surface on the suprapubic area can pose significant diagnostic challenges to clinicians. The possibility of chancre formation should be taken into account for such ulcerative nodules on the suprapubic area.