Tinea corporis is a superficial dermatophyte infection of the glabrous skin, excluding the palms, soles, and groin area. The classic clinical presentation consists of erythematous scaly annular plaques with well-defined margins, which expand concentrically and form a polycyclic arrangement1,2. However, atypical presentations are not uncommon, posing a diagnostic challenge.
Acute localized exanthematous pustulosis (ALEP) is a localized variant of acute generalized exanthematous pustulosis that is most commonly caused by hypersensitivity reaction to systemic drugs, which result in acute eruptions of multiple pinhead-sized nonfollicular subcorneal pustules on confined areas, such as the face, neck, or chest3. Negative bacterial and mycological studies are essential for the diagnosis of ALEP3.
A patient presented with densely scattered nonfollicular subcorneal pustules, measuring 1~2 mm, on the neck (Figure 1A). In addition, several follicular pustules were seen on the scalp (Figure 1B). Potassium hydroxide smear of skin scrapings from the neck and scalp revealed branching septate hyphae. Culture of the scalp showed white suede-like colonies with yellow-brown reverse pigmentation (Figure 1C, D). Microscopic examination of the culture revealed smooth tear-shaped microconidia and no macroconidia. These findings confirmed a Trichophyton rubrum infection.
T. corporis mimicking ALEP is an unusual clinical entity. Pustular fungal infections are predominantly follicular and involve deeper portions of the epidermis. Furthermore, tinea capitis is less common in adults, and T. rubrum is a particularly rare cause. Reports on atypical dermatophyte infections have been increasing, notably among elderly or immunocom-promised patients. Therefore, differentiating fungal infections and thorough examination of adjacent lesions of various dermatologic diseases are crucial for accurate diagnosis.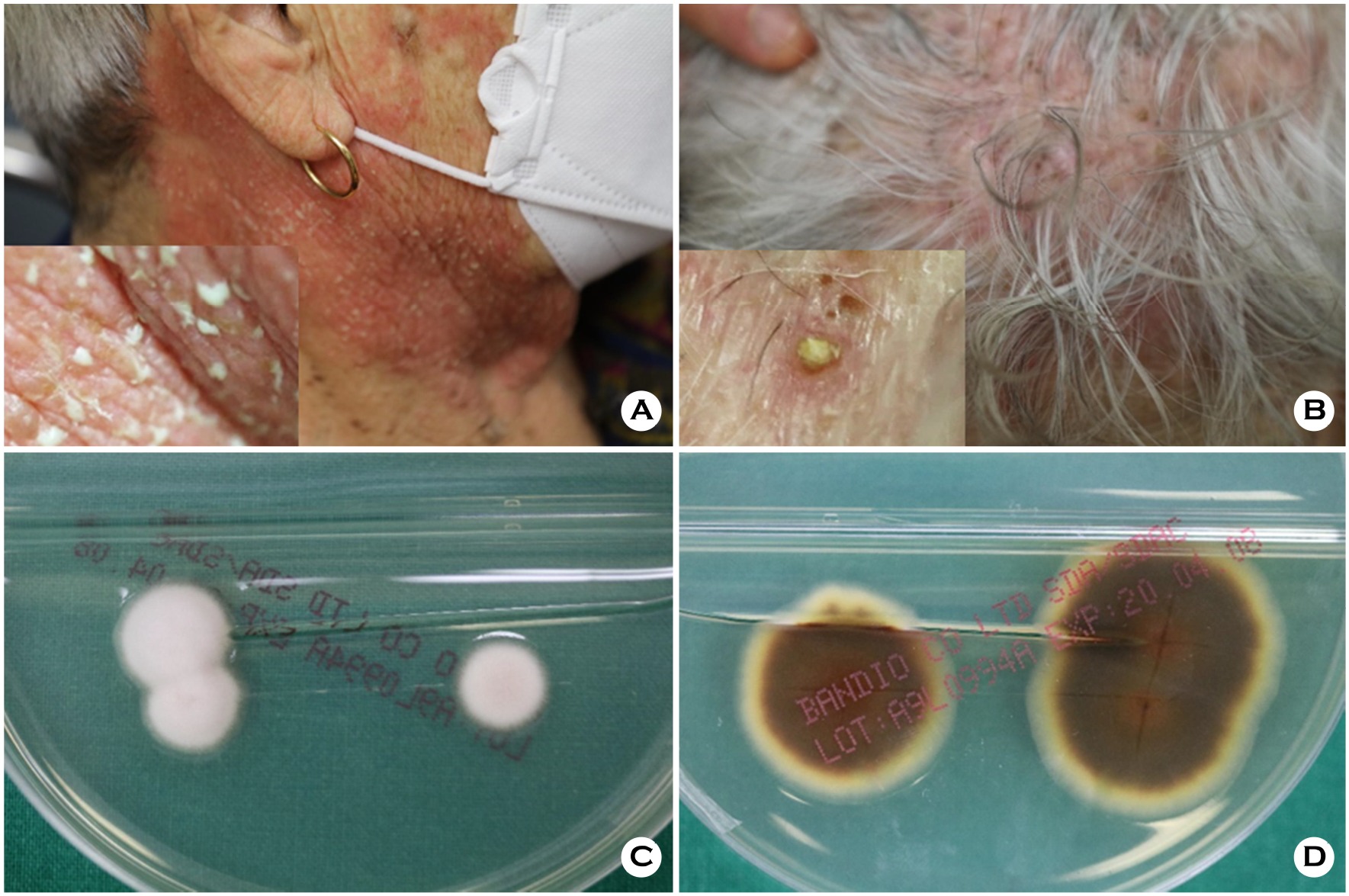 PATIENT CONSENT STATEMENT
The patient provided written informed consent for the publication and the use of her images.