INTRODUCTION
Basidiobolomycosis is a rare deep fungal infection caused by Basidiobolus ranarum that usually affects immunocompetent individuals, particularly children and young people. Basidiobolus ranarum infection can cause a range of clinical presentations, including subcutaneous, gastrointestinal, retro- peritoneal, and pulmonary basidiobolomycosis, with the most typical clinical form being subcutaneous basidiobolomycosis that is characterized by the development of swollen erythe- matous nodular lesions with gradual peripheral extension and enlargement, generally on extremities and trunk1,2.
The accurate identification of basidiobolomycosis requires high clinical suspicion. Given the rarity of the disease, this infection is often misdiagnosed as tuberculosis, chronic abscess, soft tissue tumor, malignancy, and others. For this invasive species of fungi, such misdiagnosis often delays definitive diagnosis and subsequent effective care, thereby increasing disease morbidity and mortality. The treatment includes medical therapy with or without surgical inter- vention1,3,4.
Herein, we report a case of a 25-year-old male with basidiobolomycosis, who was initially misdiagnosed with lipoma and scapular tuberculosis and showed complete resolution after itraconazole medication.
CASE REPORT
A 25-year-old male presented with a 2.5-year history of extensive swelling in his right arm, face, and neck. Lesions initially appeared as a painless nodule on his upper back and were diagnosed as a lipoma, for which he underwent excisional surgery. The rapid growth of the lesions was ob- served post-surgery. The swelling began in his right arm and then gradually spread to his face and neck along the region of right lymphatic circulation. Histopathological examination of his arm lesion indicated granulomatous inflammation, which suggested tuberculosis. However, tissue culture and fungal staining were not performed. Therefore, the patient was suspected of scapular tuberculosis and given six months of tuberculosis medication; however, no clinical improvement occurred. After a multidisciplinary discussion, deep fungal infection was suspected, and the patient was then referred to the Dermatovenereology Department.
Dermatological examination of the face, neck, and upper right extremities area revealed massive nonpitting edema on the right part of the face and arm, impairing the patient's ability to open his eyes and restricting movement of the right hand. The examination also revealed multiple painless, firm, mobile, and well-circumscribed subcutaneous nodules on the right periorbital, cheek, neck, upper arm, and lower arm area (Fig. 1A). Liver and kidney function tests were normal, and HbsAg and HIV tests were negative.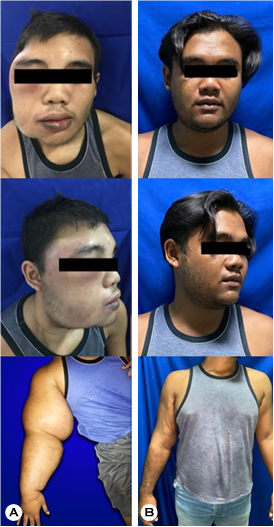 We performed fungal culture and histopathological exam- ination of subcutaneous tissue on the right arm region using excision biopsy. Histopathological examination using periodic acid-Schiff staining revealed giant cells and aseptate hyphae (Fig. 2A). Acid-fast staining (AFS) demonstrated the Splendore-Hoeppli phenomenon and aseptate hyphae; however, no acid-fast bacilli were found (Fig. 2B). These findings were confirmed using a Gomorri-methenamine silver (GMS) stain with hematoxylin-eosin (H&E) counterstain, which enhances hyphal appearance (Fig. 2C, D). Tissue material cultured on Sabouraud's dextrose agar confirmed the isolate to be Basidiobolus ranarum (Fig. 3 and 4). In this case, we per- formed AFS using the optimized method for histopathological staining. The carbol fuchsin 1% was heated for 15 min, 1% HCl-alcohol was used, and 0.25% methylene blue was used as a counter stain.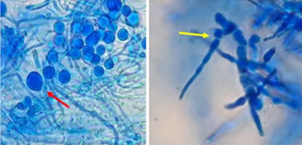 After the microbiological result confirmed the diagnosis of basidiobolomycosis, itraconazole was started with a dosage of 200 mg twice a day. Post nine months of itraconazole medication, swelling in the face disappeared, and upper and lower arm circumferences decreased but were still firm on palpation on his right face, neck, and arm. However, the growth of Basidiobolus ranarum was still observed via biopsy and culture; therefore, itraconazole therapy continued. At the 25th month of the treatment, the affected areas became soft in consistency and had no palpable mass (Fig. 1B). Further, excisional biopsy and culture evaluation were performed; however, no spores, hyphae, or granuloma were found. No fungal growth was observed in the culture. Itraconazole continued for a month after complete resolution, with no recurrence observed after one year.
DISCUSSION
Basidiobolus ranarum is a saprophytic fungus found in decaying plants and soil and is a resident flora in the gastro- intestinal tracts of various animals (amphibians, fish, bats, reptiles, and insects). Basidiobolus propagules can come into contact with humans through open skin exposure, interaction with amphibian and lizard droppings, organic material, insect bites, and soil. In this case, the patient lived near rice fields where amphibians and reptiles are natural inhabitants. He often wore sleeveless shirt at home and slept on the floor, thus likely contracting the infection due to minor trauma on his skin and exposure to Basidiobolus propagules.
A solitary, mobile, painless, and firm subcutaneous nodule emerges at the inoculation site, with progressive peripheral expansion and growth. Basidiobolus impairs the lymphatic circulation, causing lymphedema in the affected area2,5,6. Our case displayed typical clinical signs, aligning with existing literature.
Diagnosing cutaneous basidiobolomycosis is challenging due to its nonspecific symptoms, which can resemble other conditions7. Initially, our case was misdiagnosed as lipoma and scapular tuberculosis. Lipomas are painless, mobile masses in the soft tissue with a doughy consistency8. Based on clinical appearance, they are similar with the initial nodules in the patient; however, the difference is that basidiobolomycosis nodule exhibits a firm consistency. Scapular tuberculosis involves swelling, muscle pain, potential abscess formation, and joint stiffness. On palpation, it is soft, cystic, globular, and minimally tender, while in the patient, the nodule was painless, firm, and well-circumscribed9. Tuberculosis is an endemic granulomatous infection in Indonesia, and the simi- larities in predilection area and histopathological findings in tuberculosis and basidiobolomycosis frequently lead to mis- diagnosis and improper treatment.
Diagnostic culture results and the presence of fungal com- ponents are essential for a definitive diagnosis1. Basidiobolus ranarum differs from other fungi in tissue sections owing to its distinctive hyphal shape, which can be right- or wide-angled, broad, aseptate, or minimally septate. This infection is characterized by a critical histological finding in the form of eosinophilic hyaline material around the hyphae (Splendore-Hoeppli phenomenon). This phenomenon has also been found in other granulomatous infections, such as other mycoses, bacterial and parasite invasion3. Tissue samples for culture are grown on Sabouraud's dextrose agar. Macroscopically, it appears as flat, waxy, greyish-yellow colonies with radial folds. The reverse of the colony is white. Microscopically, they exhibit intercalary zygospores with "beak-like" protrusions and club-shaped spores with knoblike tips2,10.
Our case highlights the Splendore-Hoeppli phenomenon in AFS. The Spendore-Hoeppli is eosinophilic; therefore, it has a higher pH level, thus neutralizing the acid in 1% HCl-alcohol but not in 3% HCl-alcohol. Lowering the acid con- centration helps preserve the aseptate hyphal structure. The GMS stain with H&E counterstaining better accentuates the Splendore-Hoeppli phenomenon than green counterstaining.
The treatment for basidiobolomycosis involves medical therapy with or without surgical intervention. Surgery should be carefully considered because any attempt at curative excision can be counterproductive and risks seeding the fungus into the excision margins. However, if it must be done, a prolonged course of antifungal therapy is required after surgery11,12. In our case, the patient previously underwent surgical excision without antifungal treatment, resulting in rapid lesion growth post-surgery.
The optimal choice of antifungal treatment and duration of therapy for basidiobolomycosis remains unclear. Treatment should be continued for a month after lesions disappear. Several azoles, amphotericin-B, and potassium iodide have been used with varying outcomes2,13. Most patients with basidiobolomycosis respond well to azoles, with the most commonly used agents being ketoconazole (7 mg/kg/day) and itraconazole (5 mg/kg/day)7. Table 1 summarizes published basidiobolomycosis case reports. In our case, treatment with itraconazole was favorable. Complete resolution was achieved after 25 months of treatment, with no recurrence after a year. This patient had extensive lesions and a long disease duration compared to published case reports; therefore, a long duration of therapy was required.
Reference

Year

Age

Site of
infection

Lesional size

Disease
duration

Antifungal
therapy/duration

Outcome

Anaparthy14

2014

6 month-old

Left knee

3 × 4 cm

4 months

Saturated solution of oral potassium iodide/8 weeks

Complete
resolution

Kumaravel15

2016

7-year-old

Left thigh
and leg

Not known

1.5 years

Saturated solution of oral potassium iodide continue with itraconazole/4 weeks (itraconazole)

Complete
resolution

4-year-old

Left gluteal

Not known

4 months

Itraconazole/4 weeks

Complete
resolution

2-year-old

Right gluteal

Not known

1 months

Itraconazole/4 weeks

Complete
resolution

1-year-old

Left hemi
scrotum

Not known

1 months

Fluconazole/4 weeks

Complete
resolution

6-year-old

Left gluteal

Not known

4 months

Itraconazole/4 weeks

Complete
resolution

6-year-old

Right gluteal
and thigh

Not known

3 months

Itraconazole/4 weeks

Complete
resolution

5-year-old

Right lateral
thigh

Not known

1 months

Itraconazole/4 weeks

Complete
resolution

2-year-old

Left gluteal

12 × 10 cm

5 months

Itraconazole/4 weeks

Complete
resolution

Sackey13

2017

3-year-old

Right leg
and buttock swelling, right thigh ulceration

The right leg 24.4 cm,
the left leg 15 cm,
ulcer 2 × 3 cm,

1 × 1.5 cm

6 months

Itraconazole/
several weeks

Lost of
follow up

Patro16

2019

4-year-old

Right distal
arm

6 × 5 cm

4 months

Itraconazole/2 months

Lesion started
to resolve within
first month

Shety17

2021

7-year-old

Left knee

5 × 4 cm

6 months

Itraconazole/12 weeks

Complete resolution
after 8 weeks

Pramitha18

2021

23-years-old

Back, chest,
and arm

Multiple nodules
vary in size between
1.5 × 2 cm to
2.5 × 3 cm

2 years

Itraconazole/12 weeks

Complete
resolution
CONCLUSION
Basidiobolomycosis is a rare deep fungal infection with an excellent response to antifungal therapy. In this case, the administration of oral itraconazole gave a remarkable out- come. Misdiagnosis is common in daily practice and may lead to unnecessary patient morbidity. However, accurate recognition of this entity will result in a more timely diagnosis and appropriate treatment for the patient.