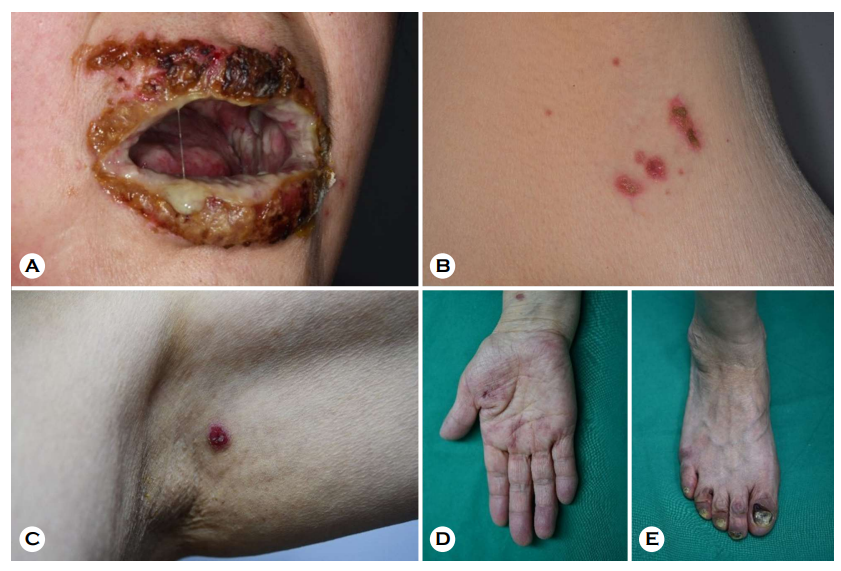 Pemphigus is a group of skin autoimmune blistering dis- eases (AIBD) induced by anti-desmoglein 1 (Dsg1) and/or anti-desmoglein 3 (Dsg3). Although the precipitating factors, as with other autoimmune diseases, are unknown and are poorly comprehended, both genetic and environmental factors are known to impact its advancement. Regarding environ- mental factors, not only viruses but also vaccines such as influenza, rabies, and hepatitis B vaccines, can cause pem- phigus as triggers. Recently, as the coronavirus disease 2019 (COVID-19) pandemic has spread globally, the number of COVID-19-vaccinated individuals is rising. Herein, we present a case of pemphigus following COVID-19 vaccination.
A 65-year-old woman presented to our clinic 3 days after receiving her second dose of the AstraZeneca® COVID-19 vaccine, with multiple painful, erythematous, eroded patches and pustules on the lips, oral cavity, trunk, axilla, and acral areas (Fig. 1). The lesion was also discovered on the anogenital area. Her first dose of the same vaccine was administered about a month ago. The patient had no serious medical history, including other autoimmune diseases. Laboratory test outcomes were within normal limits except for a mildly elevated erythrocyte sedimentation rate (37 mm/h; normal (N) < 20 mm/h) and serum differential count of eosinophils (9.6%; N < 7%). The patient's serum was revealed to contain significant levels of anti-Dsg3 (398.5 U/mL; N < 7 U/mL) and anti-Dsg1 antibodies (154.2 U/mL; N < 14 U/mL) on an enzyme-linked immunosorbent assay. Histopathology re- vealed suprabasal acantholysis and a linear palisade of intact basal keratinocytes with a 'row of tombstone appearance' (Fig. 2A). Direct immunofluorescence (DIF) demonstrated intercellular IgG deposition (Fig. 2B). Indirect immunofluo- rescence found IgG deposition on the intercellular space at 1:40 dilution consistent with pemphigus Vulgaris. With a partial response, the patient was treated with prednisone 1 mg /kg and mycophenolic acid 30 mg/kg. She was moved to a different hospital for further evaluation and management.
Numerous studies have reported on pemphigus after COVID-19 vaccination (Table 1). All patients developed oral lesions several days after vaccination. Particularly, our patient also had lesions on the acral and anogenital areas. The patients were immunized against COVID-19 with AstraZeneca®, Moderna®, or Pfizer® COVID-19 vaccines. Except for one patient whose pathologic findings were not established, all histopathological and DIF examinations revealed suprabasal acantholysis and IgG intercellular deposition.
No

Case report

Sex/
age

Location

Vaccine

Inoculation
round

Histo
pathology

DIF*

DSG1†/

DSG3‡

1

Thongprasom
et al.1

F/38

Oral mucosa

Astra

Zeneca

1st

Suggestive of
pemphigus

Suggestive of pemphigus

N/A

2

Solimani
et al.2

F/40

Oral mucosa,

trunk and back

Pfizer

1st

Suprabasal
acantholysis

IgG intercellular deposition

+/+

3

Koutlas et al.3

M/60

Oral mucosa

Moderna

2nd

Suprabasal
acantholysis

IgG/C3 intercellular deposition

-/-

4

Knechtl
et al.4

M/89

Oral mucosa,

trunk, back,

and left arm

Pfizer

2nd

Suprabasal
acantholysis

IgG intercellular deposition

+/+

5

Calabria

et al.5

F/60

Oral mucosa
and oropharynx

mucosa

Pfizer

2nd

Suprabasal
acantholysis

IgG intercellular deposition

-/+

6

Our case

F/65

Oral mucosa,
trunk, and anogenital and
acral area

Astra

Zeneca

2nd

Suprabasal
acantholysis

IgG intercellular deposition

+/+

*DIF: Direct immunofluorescence; †DSG1: anti-desmoglein 1; ‡DSG3: anti-desmoglein 3
Virus- or vaccine-associated autoimmunity is a prevalent phenomenon, and multiple reports support a possible link between COVID-19 vaccination and new-onset AIBD like pemphigus, bullous pemphigoid, and linear IgA bullous dermatosis5. Except for one case, pemphigus after COVID-19 vaccination had a good prognosis overall2, and complete remission can be achieved after weeks to months of standard treatment1,3. However, when receiving additional vaccinations, we should be watchful for recurrence or exacerbation of pemphigus2. With these potential side effects in mind, the association of COVID-19 vaccination with new-onset pemphigus must be confirmed. This case has the limitation of being a one-time occurrence, and the patient was lost to follow-up after transfer. Therefore, establishing a direct link was difficult. Additional research defining the relationship between autoimmune diseases and COVID-19 vaccination will be required to predict, prevent, and manage this vaccine's adverse effects.