Tinea barbae is a dermatophyte infection that unilaterally affects the face, particularly the bearded areas of the face and neck1,2. It may occur as two clinical presentations: a mild, superficial form that is characterized by erythemo-squamous plaques with active borders or a secondary form, a deep tinea that is folliculitis-like and characterized by erythematous pla- ques with marked pustular folliculitis3. Because of its variable clinical manifestations, tinea barbae is often deceptive and may mimic other facial dermatoses, such as rosacea, particu- larly the papulopustular type4. Thus, for accurate diagnosis, mycologic study along with biopsies is important3.
An 81-year-old woman presented with a 2-month history of localized pruritic scaly erythematous plaques, papules, and pustules with telangiectasia on the perioral area and both cheeks (Figure 1A). She was treated with over-the-counter topical steroids. She had also suffered from tinea unguium on both feet for >10 years. Histopathology showed several spores around her hair shafts with dense neutrophilic infiltration in the dermis (Figure 1B). Culture of skin biopsy specimens on Sabouraud dextrose agar yielded whitish cottony colonies with brownish pigmentation on the reverse side after 8 days (Figure 2A). Microscopically, teardrop-shaped microconidia and long hyphae were observed on slide culture of Trichophyton rubrum (Figure 2B). Polymerase chain reaction-based reverse blot hybridization assay Fungus-ID® (M&D, Wonju, Korea)5 of a sample confirmed T. rubrum infection (Figure 2C). The patient was treated with 200 mg of oral itraconazole daily for 3 months, and the skin lesion was completely improved (Figure 2D). Unlike tinea faciale, this patient showed folliculitis-like lesions on the dermis. Therefore, we diagnosed this deep type of tinea barbae caused by T. rubrum and mimicking rosacea using clinical, pathological, and culture test findings and molecular biological analysis. We report this case to emphasize the importance of mycologic evaluation of skin lesions mimicking rosacea.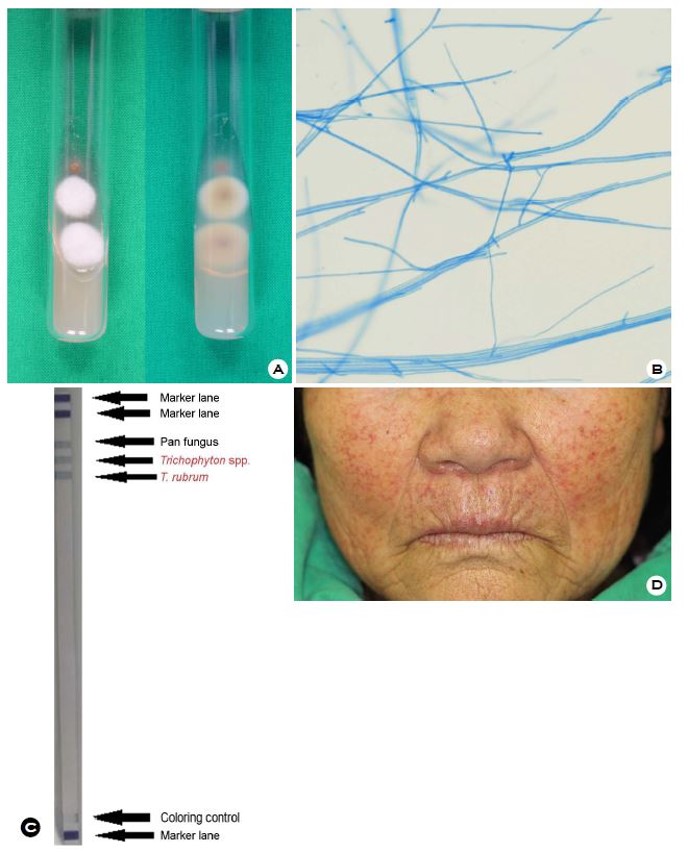 CONFLICTS OF INTEREST
In relation to this article, We declare that there is no conflict of interest.